Join us this morning in person or online at 11:00 am.
*Masks are required. *Se deben usar máscaras
We want to pray with you! Call or email us at: prayer@bethesdawaxahachie.com
Stay connected with Bethesda:
Facebook- @BethesdAGwax
Website – bethesdawaxahachie.org
Únase a nosotros en la iglesia para nuestro culto o en línea a las 11:00am
We look forward to worshipping together once again! Please read the guidelines carefully before Sunday's service.
If you are worried about gathering with people or you have underlying health issues please continue to worship with us online.
Bethesda AG Waxahachie-Release of Liability Statement- All those choosing to enter the Worship Center are entering voluntarily.
Regarding seating:
1. Ushers will seat you
2. Ushers will seat each family together in a pre-designated family section. Please stay together.
3. Rows are 6ft apart
4. There will be a designated seating area for those 65 and older.
5. Seating begins at 10:30am
Regarding dismissal:
1. Pastor D will dismiss from the platform.
2. Ushers will begin the dismissal process from the last row to the front row. We ask for everyone to please be patient and wait to be escorted out of the building
3. Please do not gather in the WC fellowship area or breezeway to fellowship.
Regarding personal contact with one another:
1. Please avoid personal contact with anyone other than your family.
Regarding hand sanitizers & masks:
1. Please use the hand sanitizer as you enter the Worship Center.
2. Masks are required.
Regarding possible illness:
1. If you have been sick or around someone diagnosed with covid 19 in the passed 2 weeks, please stay home and watch the on-line
service for the protection of our church family.
Closed Areas:
Nursery, Kids & Youth building,
Water fountain. *Changing tables are located in women's restroom.
Bethesda Homecoming 06-14-2020

Welcome!
We believe in one God, the

Father

, the Almighty, maker of heaven and earth
Bethesda is a place where the doors are always open, where you will encounter spiritual truths and wrestle with questions in a safe and welcoming community. Come join in what is happening at Bethesda!
Missing our Church Family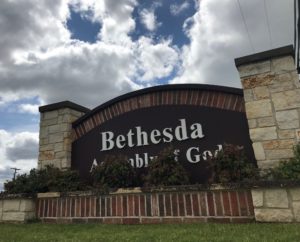 Numbers 6:24-26…"The Lord bless you and keep you; the Lord make his face shine upon you and be gracious to you; the Lord turn his face toward you and give you peace.